Hand and Body Lotion - 8 oz.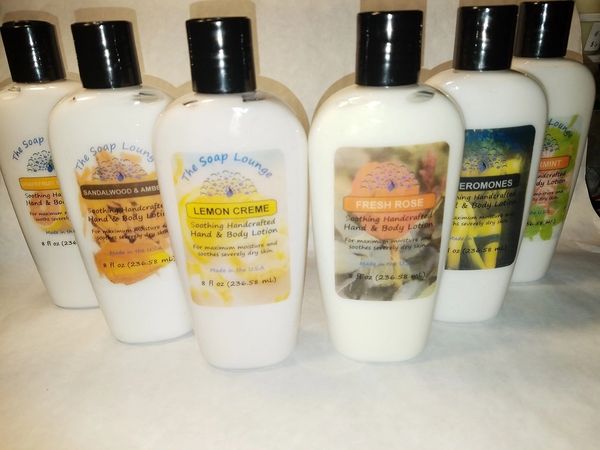 Our 8 oz Hand & Body Lotion is now better than ever!

Ingredients:  Distilled Water, Disodium EDTA, Carbopol, Allantoin, Propylene Glycol, White Petrolatum, Stearic Acid, Cetyl Alcohol, Glyceryl Stearate, Dimethicone, Mineral Oil, Fragrance, Triethanolamine, Phenoxyethanol, Ethylhexylglycerin, Aloe Barbadensis Leaf Juice.
Brown Sugar Fig:
Ripe fig, creamy coconut milk, caramelized brown sugar and a soft, velvet musk blended together to bring you this enticing scent. Not your typical brown sugar and fig! Phthalate Free.  
This magical, complex fragrance oil by Natures Garden is composed of top notes of fresh figs, peaches, and passion fruit; followed by middle notes of coconut milk, vanilla orchid, jasmine, muguet, and freesia; well-balanced with base notes of vanilla beans, caramel, maple sugar, fig leaves, and musk.  A Best Seller!
Escape to the Carribean: Escape to an island adventure with this sweet blend of juicy grapefruit, tropical pineapple and creamy coconut in a smooth, subtle vanilla base. 
Moonlit Path: 
Stroll through a lush garden blend of fresh jasmine, blue violets, sheer lavender & soft musk. Key notes: Night-blooming Jasmine, Blue Violet, Sheer Lavender, Lily of the Valley, Soft Musk. 
Sweet Pea: 
An English garden reminiscent of hyacinth, lily of the valley, violets and wild jasmine with a background of light herbal and musky notes.  A Best Seller!
Twilight in the Woods
:  
As the night seeps into the Red Wood Forest, Misty Moss and Patchouli gently glide over the Sandal Trees as the White Musky Clouds dampen the Amber Glow of this eerie aura.
Top Notes:  Mandarin Balm, Tangelo, Eucalyptus
Middle Notes:  Jungle Moss, Patchouli Leaf, Sandal Tree
Base Notes:  Red Wood Forest, Amber Glow, Musk
Warm Vanilla Sugar
: Warm vanilla aroma with a musky back note.  Vanilla and sandalwood are surrounded with whispers of soft floral nuances.  A Best Seller.