Moisturizing Cream for DRY Skin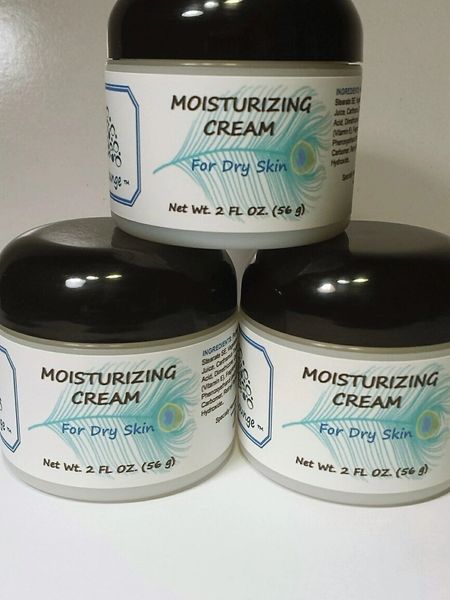 Dehydrated skin feels parched and can look scaly. It feels rough to the touch and appears to be lacking in moisture. Get the best Moisturizing Face Cream for Dry Skin. Made for moments when your skin needs just a little more. Without the right skin care routine, dry skin can appear dull, flaky and can feel tight to the touch. If your skin is dehydrated use at nighttime to restore moisture and radiance. Contains both Vitamin E (both a nutrient and an antioxidant) and Vitamin A (encourages healthy skin cell production). Vitamin A also stimulates fibroblasts—the cells responsible for developing tissue that keeps skin firm and healthy—in the deep layers of your skin.  
- Loaded with vitamins A, D & K and antioxidants. One of which is vitamin E, known to promote rejuvenation of the skin by fighting free radicals that can cause wrinkles.
- Vitamin E has also been shown to prevent the breakdown of collagen. "The intake of natural vitamin E products helps against collagen cross linking and lipid peroxidation, which are both linked to aging of the skin." (source)
- Vitamin D has the ability to restore vibrancy in skin. In addition, Vitamin D "induces the expression of antimicrobial peptide genes in human skin and plays a significant role in preventing opportunistic infections." (source)
- It does not clog the pores, it doesn't leave a greasy feeling and it only needs to be applied once a day. 
- Even in the dead of winter, even in extremely dry climates, tallow has been proven to moisturize the skin with moisture that lasts all day. 

Ingredients:  Purified Water, Tallow, Glyceryl Stearate, Vegetable Glycerin, Aloe Barbadensis Leaf Juice, Carthamus Tinctorius (Safflower) Seed Oil, Stearic Acid, Dimethicone, Cetyl Alcohol, Tocopheral Acetate (Vitamin E), Fragrance, Grapefruit seed Extract, Phenoxyethanol (and) Caprylyl Glycol (and) Sorbic Acid, Carbomer, Retinyl Palmitate (Vitamin A), Sodium Hydroxide.