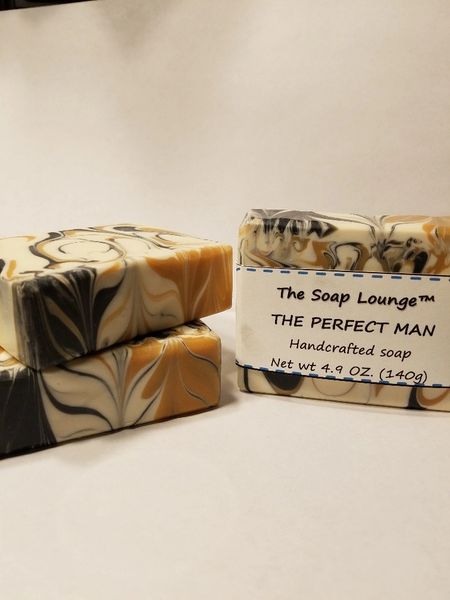 Imagine, a man who is Confident, Trustworthy, Successful, Romantic, Sexy, Sensual, Daring, and has a great sense of humor.   Would you call that…The Perfect Man? The Perfect Man fragrance begins with fresh, daring notes of Japanese grapefruit, bergamot, and lemon; followed by middle notes of peppercorn, ginger, jasmine, aquatic marine notes, and a hint of peppermint; sitting on expensive base notes of natural patchouli, cedar, vetiver, labdanum, and frankincense.
Now this is The Perfect Man!
We have received many comments on how amazing and long lasting the perfect man scent is. So, needless to say when your perfect man uses your product with this scent, it stays with him all day. Now, no matter what your perfect man has been doing, he will smell amazing. The perfect man scent is not overpowering but very sexy! In fact, many of our customers say you can't go wrong with this scent. Looks like the Perfect Man is in high demand, on several levels!

Ingredients:  Olive Oil, Coconut Oil, Palm Oil Sustainable, Distilled Water, Sodium Hydroxide, Fragrance Oil, Castor Oil, Kaolin Clay, Colloidal Oatmeal, Sodium Lactate, Titanium Dioxide, Micas