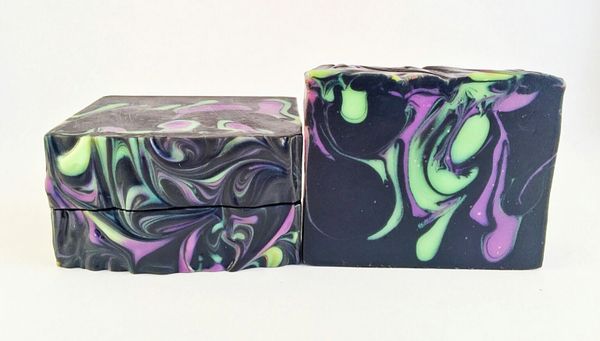 So, what fragrance could appeal to your inner Good Witch as well as your inner Bad Witch? Wicked, of course!  
This fragrance combines musky notes of patchouli, vanilla, and woods with kisses of sweet citrus and plums. Was that a hint of pure white lily? Or was it the tip of the iceberg of sensual vanilla? Only you can decide if this scent should be worn by day to release your inner Good Witch, or by night to release your inner Bad Witch. This one-of-a-kind scent is sure to please all witches and warlocks! A tempting scent to delight your senses! A seductive blend of fresh pineapple, mango, nectarine and red berries with yummy vanilla sugar crystals complete this oil. Naughty or nice - you decide.
Top notes of smoky woods and pA paean to all the Wicked Queens, Evil Stepmothers, and other misunderstood villainesses throughout history and lore. Lends an aura of majesty, refinement, strength, and a deep, brooding malice.
This scent is both sensual and fun.
Ingredients:  Sodium Tallowate  Adeps Bovis, Cocos Nucifera (Coconut) Oil, Adeps Suillus, Olea Europaea (Olive) Fruit Oil, Butyrospermum Parkii (Shea) Butter, Macadamia Ternifolia Seed Oil, Fragrance, Sugar, Bamboo Silk, Mica (colorant), Water, Sodium Hydroxide.